News
---
AI4GH In-person meeting: Nairobi, Kenya 2023



Delegates representing the AI4GH (Artificial Intelligence for Global Health) initiative participated in a meeting that covered various cross-cutting topics and issues.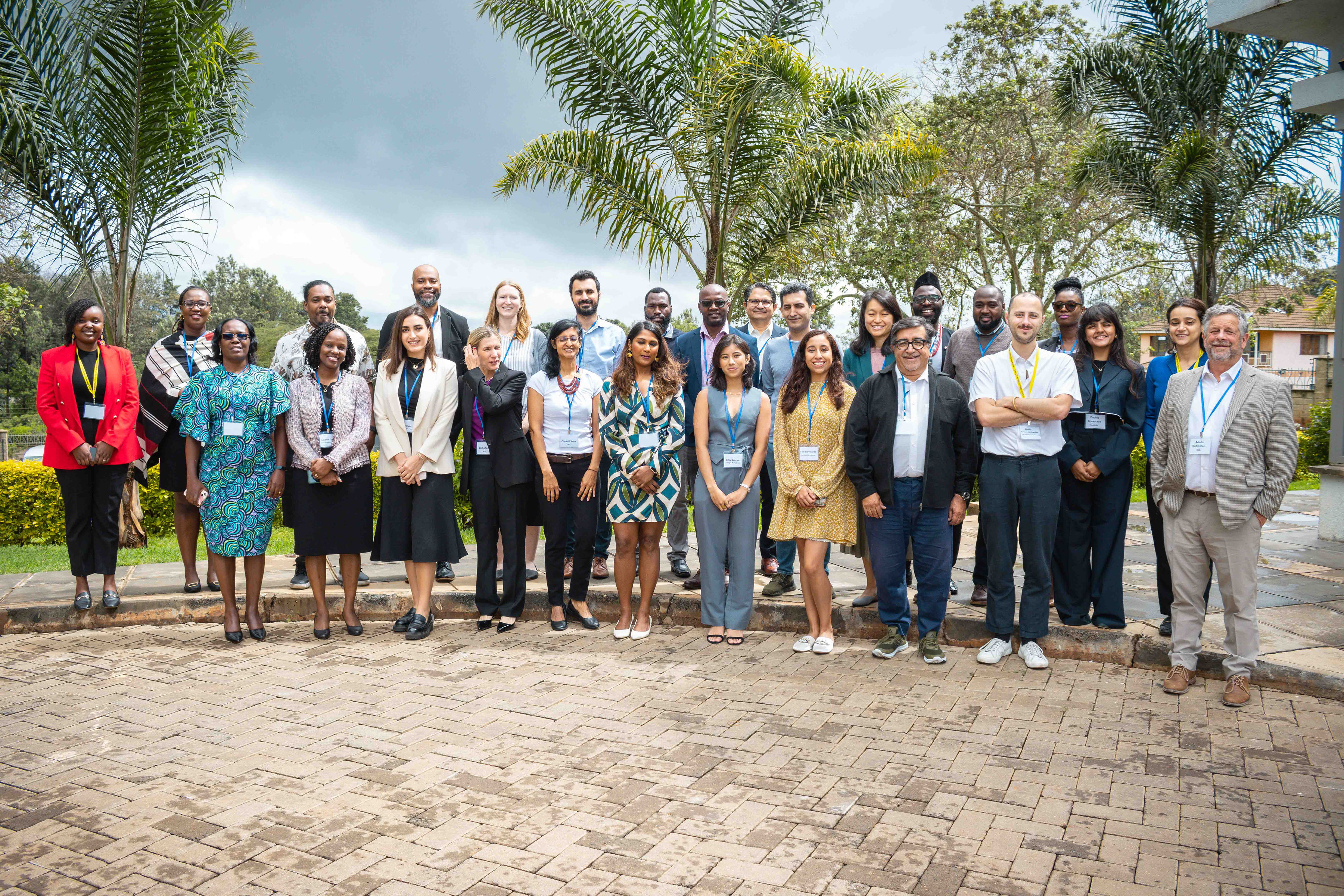 From November 13th to 15th, The Global Health Network organized a three-day event in Nairobi. The event was funded by the International Development Research Center and aimed to bring together brilliant minds in the field of global health. The focus was on promoting cross-pollination and collaboration between the initiative partners.

During the event, partners engaged in various activities, such as exchanging ideas and exhibiting solutions related to their AI solutions. The event provided participants a platform to understand better past, present, and potential challenges and solutions related to AI applications in global health.
The main goals of the meeting were to:
Share the partners' achievements, milestones, successes, best practices, and challenges in AI-driven health solutions.

Share their plans and collect feedback on upcoming skill-sharing or training programs.

Share their current practices and goals for aligning projects on ethics, responsible AI, and gender-responsive AI principles.

Entice discussions about the findings from the gap analysis study
Outcomes:
Recognition of common focus areas, successes, or challenges from the project presentations, discussions, and identification strategies and next steps for addressing them.
Further recommendations for addressing the identified gaps.
Establishing a strong foundation for continuous collaboration and sharing among AI4GH partners, with an agreement on what knowledge can be shared and how it can be achieved
Attendees are from Asia, Africa, MENA, and LAC regions, including:
Instituto de Efectividad Clinica y Sanitaria (IECS), Argentina: Adolfo Rubinstein and Cintia Cejas
PHC Global, Pakistan: Mohammad Imran and Kamran Aslam
The Infectious Diseases Institute (IDI), Uganda: Elizabeth Oseku and Agnes Bwanika
Villgro Philippines, Philippines: Priya Thachadi and Sofia Gonzalez
Tecnologico de Monterrey, Mexico: Enrique Cortes Rello and Fabiola Velarde
York University, Canada: Jude Kong, Jean-Jacques Rousseau and Liswa Luhlanga
American University of Beirut, Lebanon: Nadine Sabra and Zahi Abdul Sater
Villgro Africa, Kenya: Deogratias Mzurikwao and Amadi Growman
Jacaranda Health: Stanslaus Mwongela and Sharon Ochieng
IDRC, Canada: Chaitali Sinh, Gillian Dowie, and Samuel Oji Oti
Health AI: Evangelia Baka, Peiling Yap, and Devina Srivastava
The Global Health Network, England: Salvia Zeeshan, Louis Karasinski-Stanley, and Christine Kirima
Attendees were inspired to commit themselves to working towards this goal, focusing on ensuring that AI solutions are developed and deployed responsibly and equitably. Overall,the event was a huge success and provided an excellent opportunity for participants to network, share knowledge and ideas, and collaborate on innovative solutions for global health.
---
PARTICIPATION IN THE NATIONAL MEDICAL CONGRESS, SANTA ROSA DE COPÁN, HONDURAS, OCTOBER 2023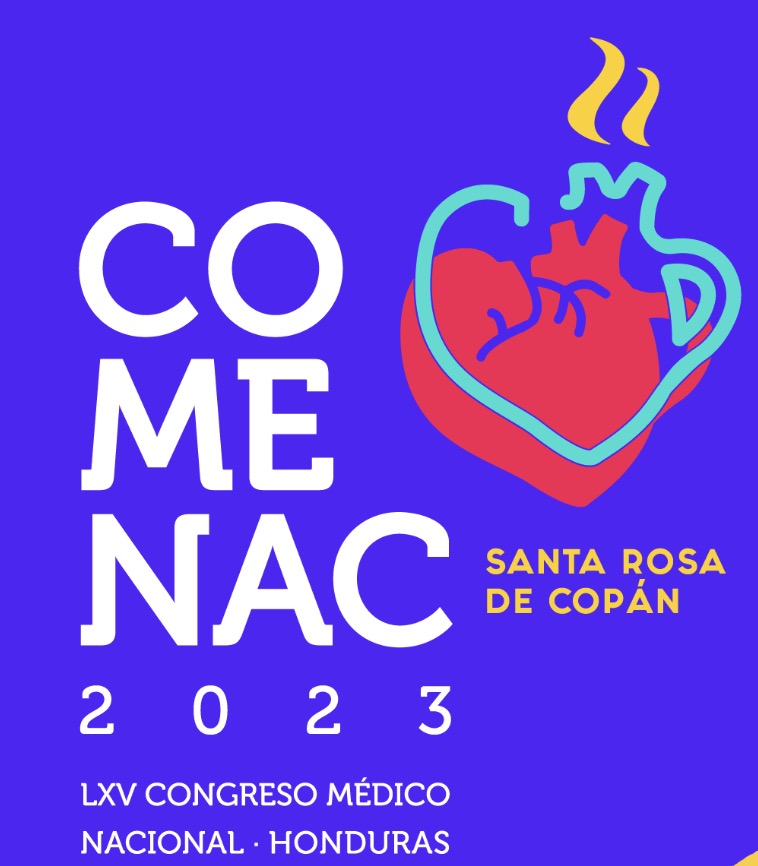 From October 25 to 28, 2023, the LXV National Medical Congress was held in Santa Rosa de Copán, Honduras, with seven pre-congress workshops, 52 keynote lectures, and 106 abstracts, presented in oral (70) and poster (36) format.
Two abstracts were presented on the collaborative work between Instituto de Enfermedades Infecciosas y Parasitología Antonio Vidal and The Global Health Network. This highlights TGHN's ethos and promotes new opportunities for collaboration as it serves as a platform for visibility for the different Communities of Practice that encompasses TGHN.
The conference's scientific committee opens the floor for papers on experiences, clinical cases, and research results. Dr. Jackeline Alger, Latin American Lead in the TGHN LAC Hub, presented an abstract titled "Connecting Excellence and Sharing Knowledge for Greater Equity in Health Research: experience of The Global Health Network Latin America" in poster format (Abstract #97) and was awarded first place in the poster, experience category.
Dr. Bryain Maradiaga, Regional Coordinator for LAC in the AI4GH Research Hub, presented an abstract titled "Promoting the Responsible Use of Artificial Intelligence in Health: Experience Building a Global Community of Practice" in oral format (Abstract #58) and was awarded first place in the oral, experience category.
The scientific program, including a compendium of abstracts, was published as the National Medical Congress Supplement of the Revista Médica Hondureña, and it is available at the following link
---
SFA Foundation is seeking your insights to bridge development, application
,
and policy gaps of AI and Data Science in Africa: Let your voice be heard
by completing
this survey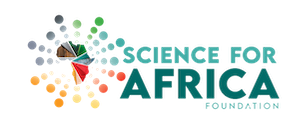 SFA Foundation is seeking to build an understanding of the gaps in national, regional and continental policies for the development, application and governance of AI and Data Science in global health across the continent. Emphasis is placed on, but not limited to, policies for data science and AI applications for Genomics, Epidemics and Pandemics, Clinical trials, and Drug development. Understanding trends and gaps will inform stakeholders to influence policy, and strengthen the research and innovation landscape. The SFA Foundation is seeking perspectives on this area and convening key stakeholders to dialogue and develop interventions to address policy gaps in AI and Data Science for global health in Africa. In this regard SFA is requesting those involved in African AI and data science to participate in a survey. Your responses will be kept confidential and personal information will not be shared with any third party. The estimated time to complete this survey is no more than 10 minutes.
Learn more about Science for Africa' Survey in English.
Learn more about Science for Africa' Survey in French.
---
Regional hubs catalyze AI to improve women's health

The Sustainable Development Goal (SDG) target for maternal mortality is not being met, and there are still high rates of child marriage and teen pregnancy. Additionally, there are significant gaps in access to contraception, safe abortion, post-abortion care, and comprehensive sexual and maternal health education. The field of maternal, sexual, and reproductive health (MSRH) is particularly lagging, but there are significant opportunities and risks associated with AI that could help improve the situation.
The AI4GH initiative by IDRC is working to fund researchers in low- and middle-income countries to develop responsible AI solutions that can improve MSRH for women and girls in a more effective and equitable manner. The initiative has established four regional hubs to support the capacity of regional and local institutions to oversee research and build research networks, with each one designed to advance MSRH and rights while strengthening health systems within their respective region through the responsible development of AI innovations.
Read more about these four Partner's Hubs:
Read more on this article (click here)
---
Seed grants to commercialize responsible artificial intelligence innovations in global health
23 startups — across Africa, Latin America, and the Caribbean (LAC), and Asia — are receiving financial and technical support, including mentorship, skills strengthening, and networking opportunities to strengthen business models focused on health equity, gender equality and inclusion. The recipients, sponsored through IDRC's Artificial Intelligence for Global Health initiative, will share knowledge and experiences within and across regions, as well as with other partners.
Read more about these three incubators:
Read more on this article (click here)
---
¡Perspectivas y enfoques para América Latina y el Caribe! [Perspectives and Approaches for LAC]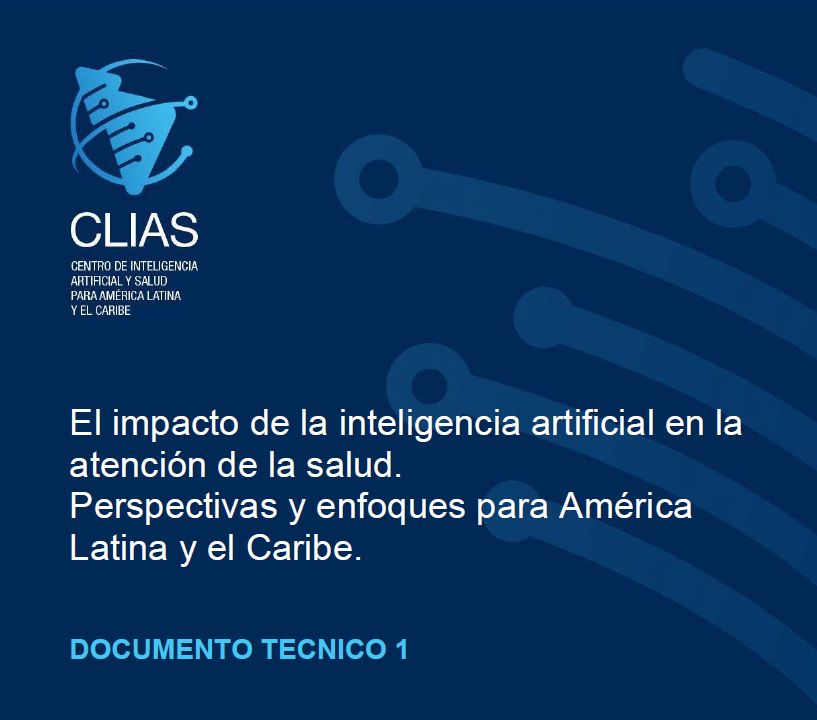 El Centro de Inteligencia Artificial y Salud para America Latina y el Caribe (CLIAS), una iniciativa del IECS; comparte este documento para abordar la situación de la Inteligencia Artificial (IA) en salud en América Latina y el Caribe (ALC), desde una perspectiva regional.
Estos documentos tienen por objetivo aportar al conocimiento de la región, abordando distintos ejes y perspectivas relevantes en el análisis de esta temática.
Encuentralo aqui. [English Version]
Sitio web oficial: https://clias.iecs.org.ar/
---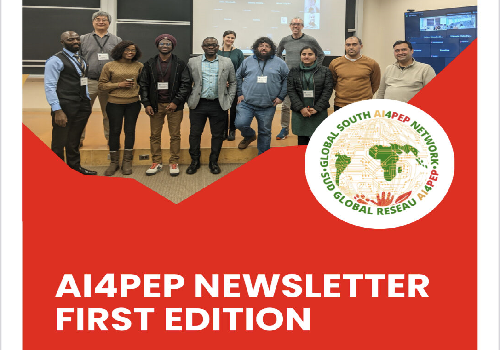 Global South AI4PEP Network-Global South Artificial Intelligence for E/PPR from York University.
Learn about Global South AI4PEP Network recent activities and more, in the first edition of their newsletter here!
Learn more about York University's Initiative here.
Official website: https://www.yorku.ca
---
Information Session on the GHAIN MENA CALL FOR PROPOSALS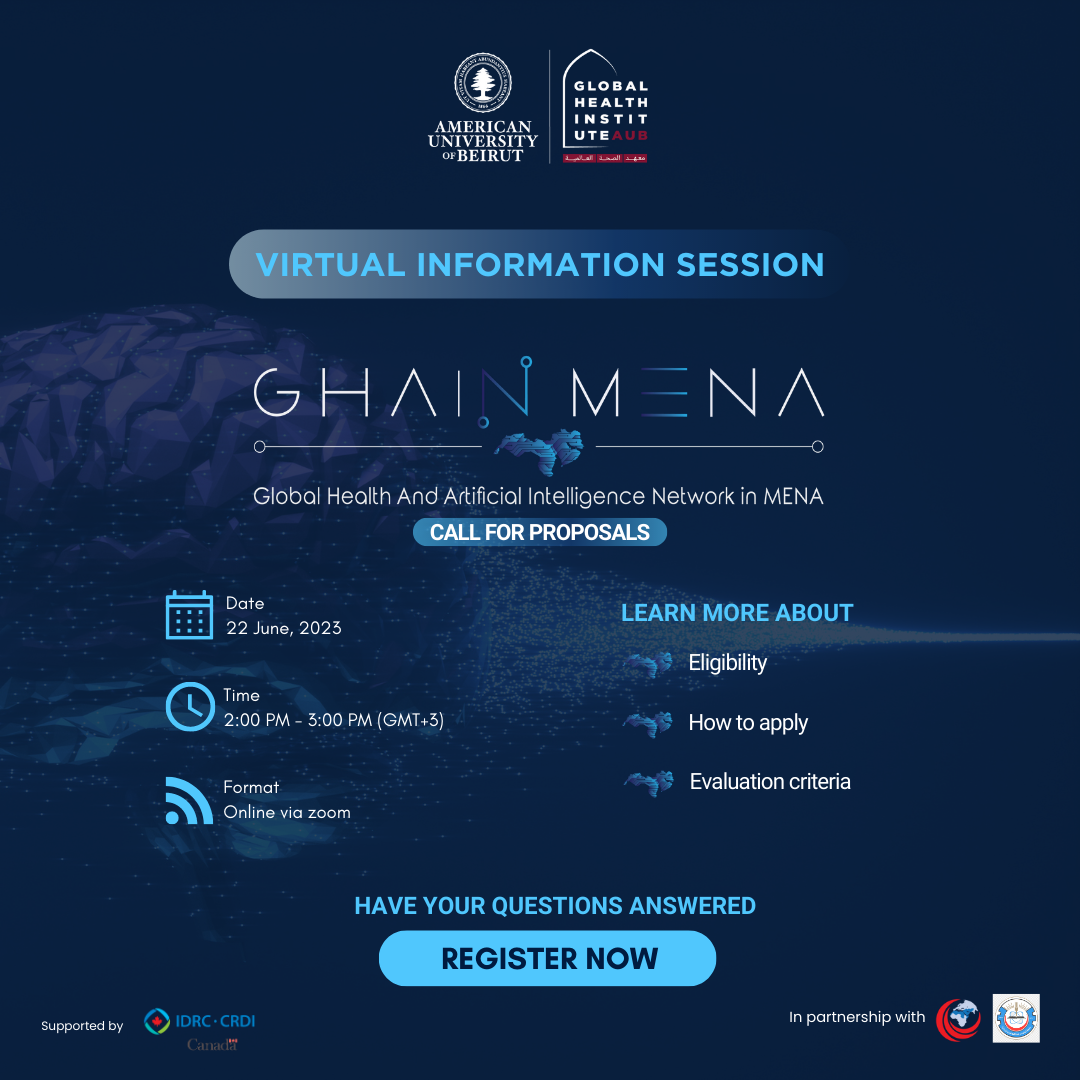 This is to inform you that the Global Health Institute (GHI) at the American University of Beirut (AUB) held a virtual information session about the Call for Proposals launched by the Global Health and Artificial Intelligence Network in the Middle East and North Africa region (GHAIN MENA).
Date: Thursday, June 22, 2023
Time: 2:00pm - 3:00pm (Beirut Time GMT +3:00)
---
Webinar AI-Sarosh 2023 Grant Cycle: Full Proposal Development Assistance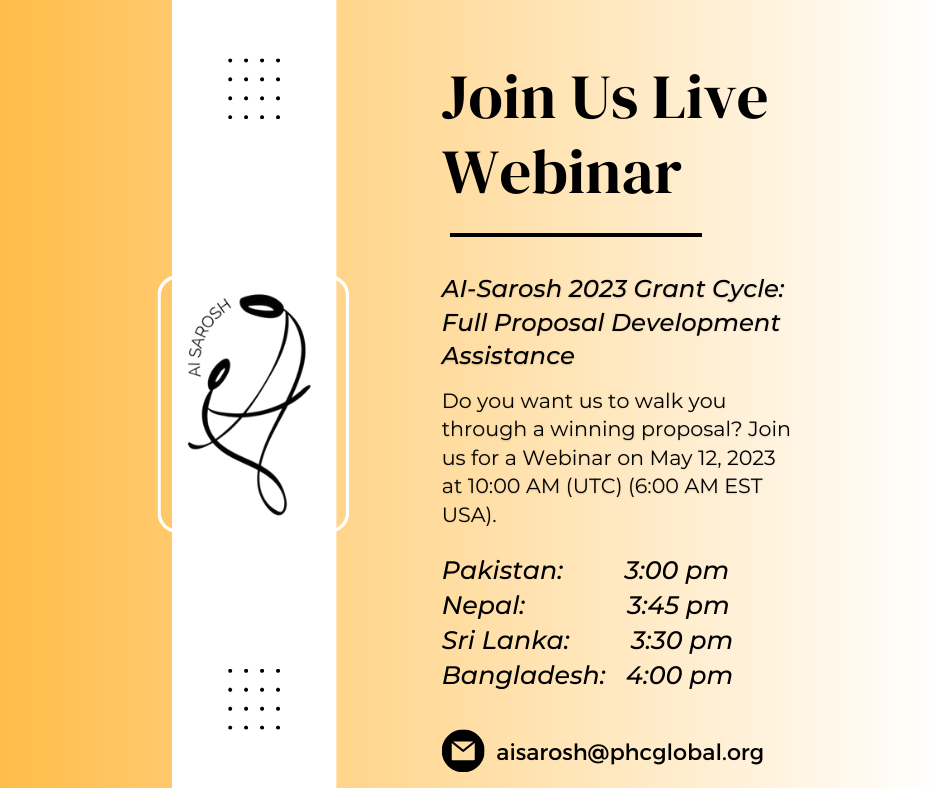 AI-SAROSH is a knowledge hub for responsible use of Artificial Intelligence for Sexual, Reproductive and Maternal Health in South Asia.
Webinar to walkthrough the requirements of a wining proposal, what ideas were encouraged during the grant cycle and Q&A to address your queries.
Webinar was on May 12, 2023 at 10:00 AM (UTC) (6:00 AM EST USA).
---
Webinar AI-Sarosh 2023 Grant Cycle: Reviewers workshop webinar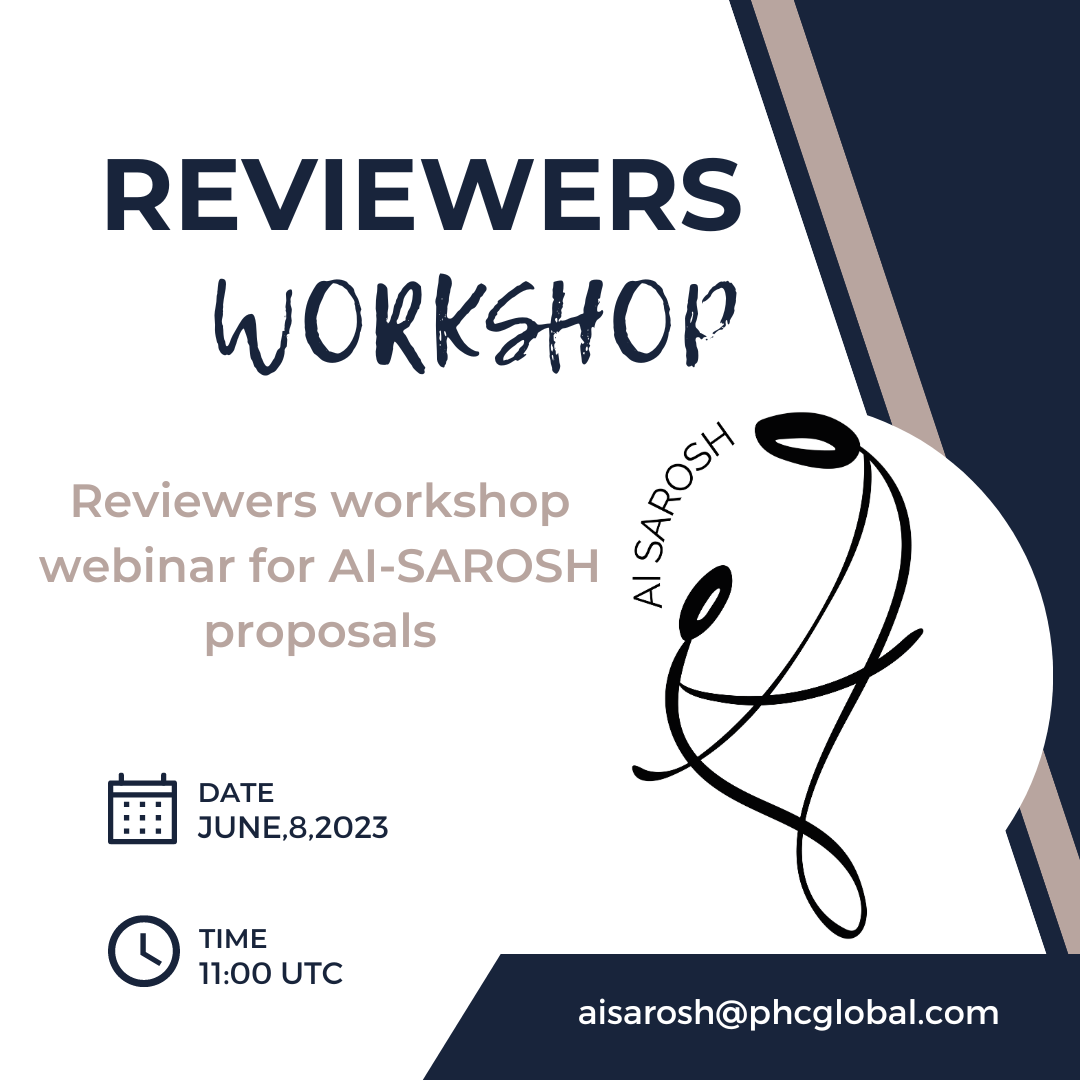 AI-SAROSH is a knowledge hub for responsible use of Artificial Intelligence for Sexual, Reproductive and Maternal Health in South Asia.
We had a reviewers workshop on June 8 to discuss the proposal evaluation strategy to choose groundbreaking AI-SAROSH Proposals, where we will discuss proposal evaluation criteria, scoring, and entry into the online portal.Date: June 8, 2023
Time: 12:00 UTC
Recordings coming soon.