---
Empowering Global Health Research with Responsible AI Solutions: Our First Newsletter is Here!
Dear innovators, researchers, and users of AI and global health,
"We are pleased to welcome you to the new AI Knowledge Center for Global Health Research. As the field of AI to strengthen equitable health services and health systems rapidly evolves in every corner of the world, there are many opportunities to foster collaboration and knowledge exchange to promote the responsible use of AI innovations in healthcare systems. Responsible AI innovations include those that are ethical, inclusive, rights-respecting, and sustainable. This center can serve as a space to access, develop, and share open-access resources and as a bridge to relevant training, networking, and other opportunities."
International Development Research Centre (IDRC)
We are currently planning upcoming events and collecting resources such as research publications. As a member of AI for Global Health Research, you are invited to participate in this process by contributing ideas, resources, or asking questions. Contributions will be acknowledged in the final outcome and assigned digital object identifiers (DOIs), ensuring easy discoverability and citation.
Are you interested in joining and want to learn more?
Send us an email: aiforglobalhealth@tghn2.org
Are you using AI for your health research and want to connect with others?
There will be a "meet & greet" event for AI collaborators coming soon. Are you on the AI collaboration map?
We are pleased to announce that we will be hosting a virtual "meet & greet" session for registered collaborators on the AI Knowledge Center's collaboration map. The event is an opportunity for you to meet people from different parts of the world who are involved in AI research. We will communicate the date, time, and platform of the event in due course.
If you wish to receive an invitation to join the AI collaborators' "meet & greet," make sure you are on the AI collaboration map.
Add your profile to the map and find collaborations: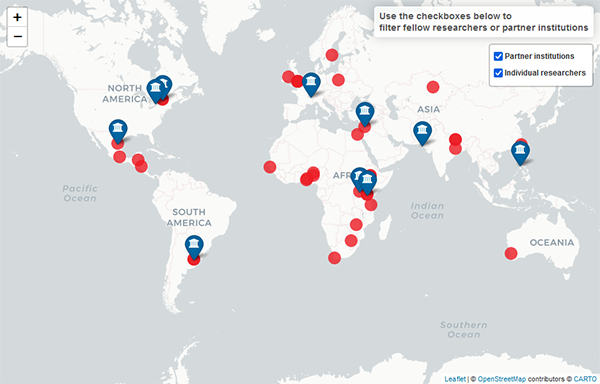 Are you interested in using artificial intelligence to improve sexual, reproductive, and maternal health in Latin America and the Caribbean?
Our partners at the Center for Artificial Intelligence and Health for Latin America and the Caribbean (CLIAS) have just launched a research project call for AI solutions applied to SRMH. This is a fantastic opportunity to contribute to the responsible development and implementation of AI in Global Health Research.
Deadline for expressions of interest: June 1, 2023. Learn more here:
Events:
Upcoming Webinar: AI for Global Health: Challenges and Lessons Learned
Experts discuss the use of responsible AI solutions to enhance public health preparedness and response to emerging and reemerging infectious disease outbreaks.
Last session: May 29, 2023, from 12:00 p.m. to 1:30 p.m. Eastern Standard Time (EST).
Register: University of York Registration Link.

Catch up on the series recordings: TGHN Events
Celebrating the Impact of AI in Global Health Research
PASIA, an fAIr LAC Jalisco initiative, has successfully selected five grant recipients focused on AI for global health research and brought them together in Tequila, Jalisco, at the NextGen AI for Health LATAM Summit.
Learn more about the startup projects and view the summit highlights: Tec de Monterrey's Entrepreneurship Institute
Webinar: "AI-SAROSH 2023 Grant Cycle: Assistance for Developing Comprehensive Proposals"
Precision Health Consultants (PHC Global), a healthcare consulting firm leveraging advances in digital technology to improve health outcomes, provided valuable information on creating a winning grant proposal and fostering innovative ideas during the grant cycle. Congratulations to the AI-SAROSH group!
We look forward to continuing the conversation with you and working together to advance responsible AI for Global Health Research!