Dear AI researchers, innovators, and users, 
Discover the latest news, resources, and events that promote responsible AI and improve equitable health outcomes by connecting people, ideas, and capacity-strengthening opportunities.
Upcoming Webinar: How to Tackle Health Technology Innovations: Case Studies from Africa: Insights from African AI start-ups, highlighting their challenges and solutions. 
Date:  October 10th, 2023, 13:00 hrs. UK time (BST)
Are you interested in sharing your resources and being assigned a DOI (Document Object Identifier) for them?  
Sharing how you did your research and outcomes can advance AI in health research. Making your resources available to others can lead to innovative solutions that improve healthcare overall. The Global Health Network assigns DOIs to resources you share. By assigning DOIs, credit is given to you, thus promoting fairness in the scientific community.   
 
Please email us with your resources at aiforglobalhealth@tghn2.org 
AI for Global Health collaborators meet & greet event coming soon – are you on the collaboration map?



We are excited to announce that we will be organizing a virtual meet and greet session for registered collaborators on the AI for Global Health Knowledge Hub collaboration map in the near future. The event is an opportunity for you to meet with individuals from different parts of the world who are using AI in health research or have an interest or experience in using responsible AI for health research. We will communicate the event's date, time, and platform in due course. If you would like an invitation to join the meet & greet for collaborators, please make sure you are on the collaboration map.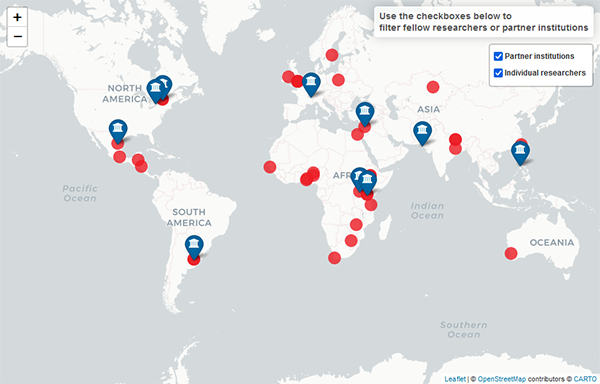 Webinar Recording: How to Tackle Health Technology Innovations: Case Studies from LAC
In this enlightening session, our panelists shared their invaluable experiences and insights, shedding light on the obstacles they encountered and the strategies they employed to navigate the unique challenges posed by the intersection of AI and healthcare. Catch up on the recording, which is available in English, French, and Spanish below:
Seed grants to commercialize responsible artificial intelligence innovations in global health have been awarded to projects based in Low-Middle Income Countries (LMICs)
The International Development Research Centre (IDRC) has funded 23 groundbreaking AI projects in LMICs. These projects have been created to improve sexual, reproductive, and maternal health and enhance prevention, preparedness, and response to epidemics and pandemics in Africa, Asia, Latin America, and the Caribbean. These start-ups focusing on health equity, gender equality, and inclusion will receive financial, technical, mentorship, skills, and networking support through an incubator program.
Read more about the three regional incubator programs:
Science For Africa Foundation seeks your insights to bridge development, application, and policy gaps in AI and Data Science in Africa.
This initiative aims to influence policy and strengthen research and innovation, potentially impacting millions of lives. If you're involved in African AI and data science, share your thoughts by completing Science for Africa's Survey.   
As we chart this new territory of AI in Global Health, we want to hear from you! Do you have any ideas on how we can find new and creative methods to work together to promote AI solutions in a responsible and ethical manner? Let us know by emailing us at aiforglobalhealth@tghn2.org.